Onigiri rice balls make the perfect Japanese picnic
Travelling in Japan is easy because you can always pick up good, cheap food from convenience stores, or Combini. Rice balls (Onigiri) are brilliant!
When travelling anywhere, it's handy to know you can pick up some food along the way, perhaps without worrying about speaking the language. When travelling in Japan, Onigiri rice balls are perfect for picnics.
This is one of our top tips about travelling in Japan, something we always tell people about when they ask us about visiting Japan.
Inevitably when travelling in Japan you'll be out and about visiting lots of places, and it can be really handy to have a picnic with you so that you don't need to worry about finding a restaurant or cafe for lunch, which might bring its own issues of speaking Japanese - especially if you're out of the cities and in the countryside where English or other languages are less frequently spoken.
One of the best things to take as a picnic in Japan is Onigiri (お握り), or rice balls.
What is Onigiri?
Onigiri are rice balls, made of cooked rice and often containing other foods like fish, meat and vegetables. They are sometimes wrapped in nori (seeweed) and if bought from a combini - supermarket / convenience store - they are sealed in plastic.
Onigiri are perfect for carrying around with you on a day trip - they were a staple diet for us! When we hiked up a volcano in Kyushu we took onigiri with us, because they'd happily be packed in a bag and would be ok even in warm temperatures. Likewise on the short Daibutsu hiking trail to the Great Buddha of Kamakura at Kōtoku-in, onigiri were the perfect picnic to take with us - plus there's a combini at Kita-Kamakura where the trail starts!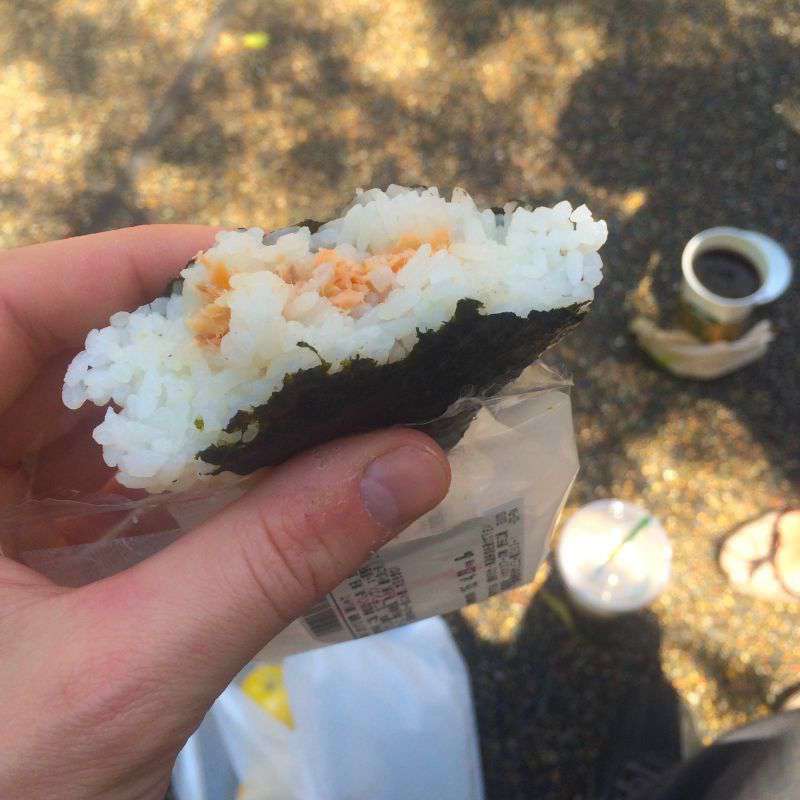 How to buy Onigiri
Easy! They are sold at every convenience store, and you'll quickly begin to recognise each combini's particular brand, flavours and packaging colours.
They're usually triangular or circular shaped and cost around ¥100 - 200 (£1 or $1.30).
Onigiri are also available from other kinds of shops - cafe/deli type places, and you can get really nice (and more expensive Onigiri from department store food halls, like Isetan in Shinjuku)