Climb a volcano in Japan! Hike up Kaimondake in Kyushu
Japan is famous for volcanos, Mount Fuji being the most recognised, but you can hike up smaller volcanoes on some amazing hikes all around Japan.
If you plan to visit Japan's most southerly island Kyushu, then a trip to Kagoshima and the Satsuma Peninsula may well be on your itinerary - if so, then why not take a hike up the Kaimondake volcano
South of Kagoshima in Japan's most southerly island of Kyushu is the Satsuma peninsula, a coastal subtropical area. This area has a mix of seaside towns like Ibusuki with miles of sandy beaches, and inland forests and farmland.
It also features the Kaimondake volcano (開聞岳) at its most southerly tip. This perfect conical volcano, 924 metres high, rises spectacularly from the sea and low-lying land around it and is visible for miles around.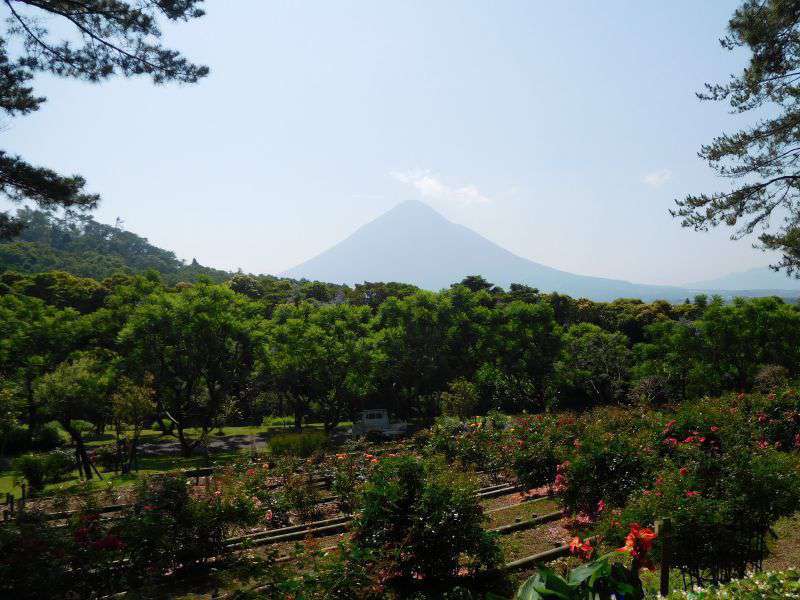 It last erupted in the year 885 so it's probably not going to erupt again any time soon!
Update April 2018 - Just to illustrate the active nature of some of the Kyushu volcanoes, Shinmoedake erupted in March 2018!
We're keen hikers, so when we visited Kyushu and Kagoshima, we were not going to miss the opportunity for a volcano hike. We had an amazing day, and combined the hike with a trip to the Kagoshima Flower park.
This is definitely off the beaten track - we met a handful of Japanese people on this hike, but no tourists. A great choice for anyone wanting a bit of solitude and a unique southern Japanese tropical experience.
The climb
After leaving the nearby town of Kaimon (directions below), the hike starts suddenly after leaving the road up from the town. One minute you're on a paved road, the next you're in deep jungle with the heat, humidity and atmospheric sounds of jungle birds and animals.
We visited this area in early summer, late May / early June - so it was already pretty hot, but we were surprised at the heat and humidity on this hike, particularly as the lower slopes of the volcano are deeply forested and there was little wind to cool us down. Within minutes we were dripping with sweat and clawing at our clothes.
The path winds its way around the volcano in a clockwise direction, gently at first then getting steeper towards the top. At first it feels like it's going on forever - but as you go up the curvature of the path tightens and steepens and fleeting glimpses of the view through gaps in the trees begin to build your excitement and anticipation of reaching the top.
Every so often you'll see a signpost marking a stage. There are 9 stages before the summit, so it's handy to know how far you still have to go.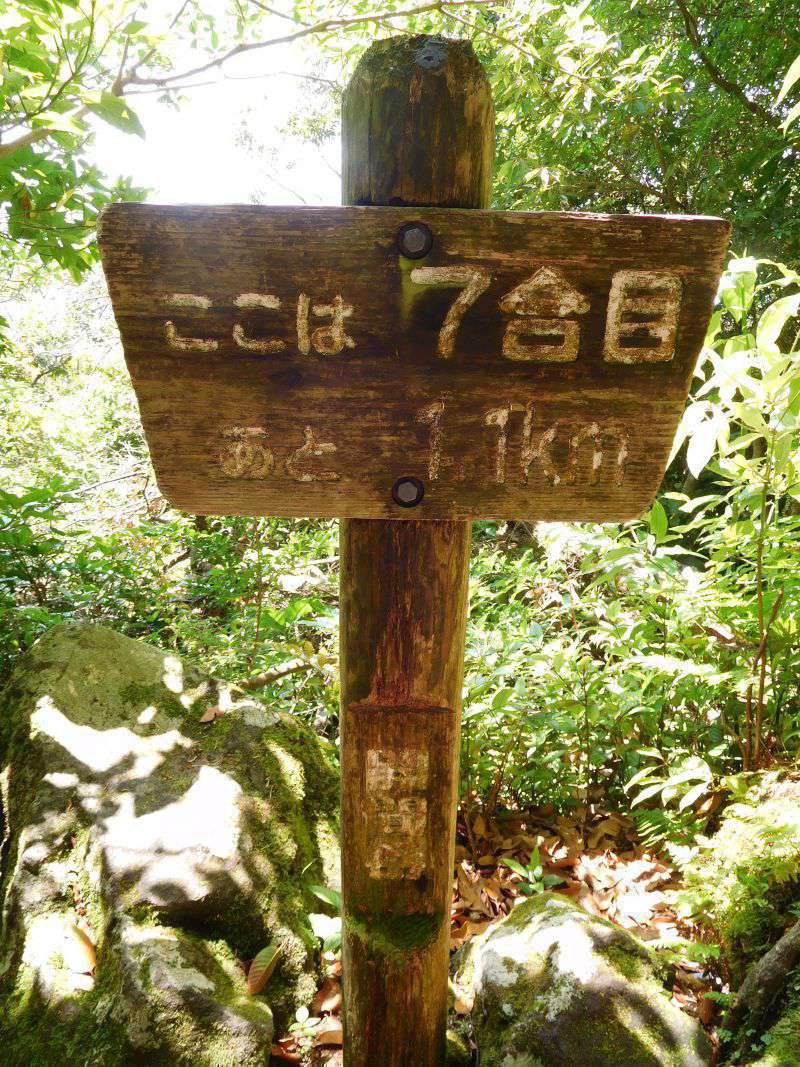 The path is pretty varied - sometimes a clear dirt track, other times you're stumbling over tree roots and ducking under branches. Further up you'll see evidence of this volcano's active history as you clamber over rocks and boulders.
As the path steepens towards the top, you'll find ropes and ladders set up to help you ascend steeper sections or large rocky steps - these can be fun and add an sense of adventure to this hike.
You'll also see a few 'Air rescue' points towards the top - a reminder that this is a pretty serious hike and people have obviously been rescued from the volcano before!
The top is reached suddenly after a few rocky steps, and is quite flat and open. The views are absolutely stunning, and extend a full 360 degrees. North is the Satsuma peninsula, and south you look out over the East China Sea and the Japanese islands.
We found the summit busy with birds and flying insects - with the cover of the trees gone they seem to enjoy flying around on the top of the volcano. You'll also be glad of the breeze which helps to dry the sweat you've worked up on the climb. We enjoyed a picnic in a sheltered spot before heading back down the same way.
By the time we reached the bottom again we were hot, tired and thirsty - but had enjoyed an amazing experience. Our feet suffered a little, being wet with sweat and rubbing in our hiking boots.
Time / distance Allow 2.5 hours to get to the top, and 1.5 hours to descend. Total distance is about 7-8 miles.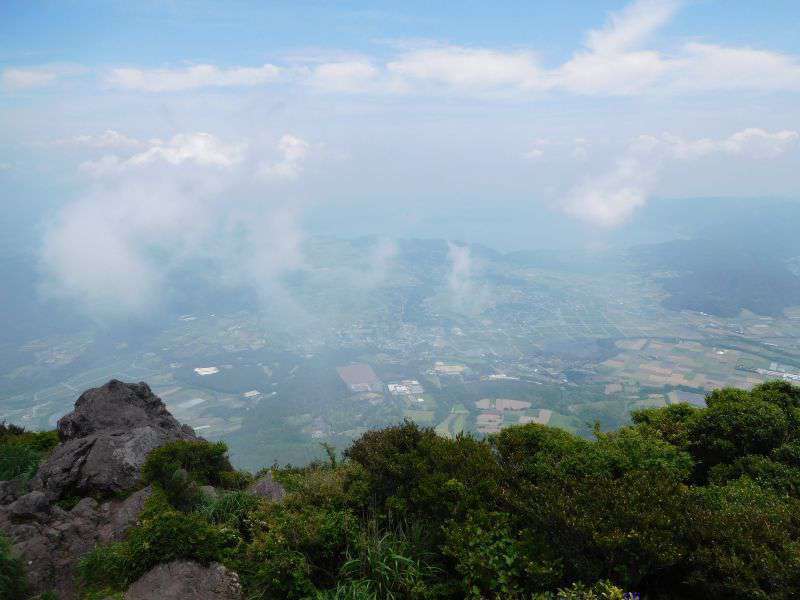 Recommendations for the hike
It's reasonably strenuous - at 924 meters it's a decent mountain, and you have to start from almost sea level. This hike therefore requires a decent level of fitness. Regular hill walking or cycling would probably do it.
It's hot - In summer take plenty of fluids, at least 1 litre per person. And don't drink this on the bus or train, save it for the actual hike - take more if you're not sure. Wear appropriate clothing for the temperature and take a hat to protect from the sun.
It's remote - There are shops (combini) and vending machines in Kaimon, but do be prepared and carry enough supplies with you.
It's not paved - the ground is pretty rough, with tree roots, rocks and some ropes and ladders to help ascend the steeper bits. We recommend strong hiking shoes or boots.
Top tip - In typical Japanese style there's a vending machine and toilets just before the trail starts. A great place to tank up on fluids before you start.
How to get there
You can take the train directly from Kagoshima to Kaimon
Or if you wish to also visit Ibusuki or Kagoshima Flower Park, then take the train from Kagoshima to Ibusuki. From Ibusuki train station find the bus stop outside the station which has timetables in Japanese and English. The bus runs every 45 minutes and links Ibusuki via Yamakawa, Healthy Land Onsen and the Kagoshima Flower Park, reaching the Kaimon-dake trailhead (開聞登山口) after about an hour's journey.
Arriving by train or bus you'll in downtown Kaimon. From the main crossroads, follow the road south - you'll be able to see the volcano! You cross over the railway line, up the hill around a bend until the road straightens and leads directly up to the base of Kaimondake. Google maps directions here.