Enjoy fabulous sushi in Shibuya, Tokyo at the impressive but good value Gonpachi Sushi restaurant
Visit this excellent sushi restaurant in Shibuya, Tokyo, for delicious and well-priced sushi, served over the counter or with table service
When travelling in Japan you're almost certainly going to be eating sushi, and you're highly likely to visit Shibuya. Combine the two and enjoy some high quality and good value sushi at Gonpachi Shibuya.
Gonpachi is a lovely restaurant we've found in Shibuya, which has two separate dining areas - both of which are worth visiting. The restaurant is on the 14th floor of a building just behind Shibuya Mark City, and up the hill from Shibuya train station and the crossroads.
Gonpachi has a large soba and yakitori dining room (apparently the location of the restaurant scene in Kill Bill), but it also has an almost secret sushi restaurant hidden away.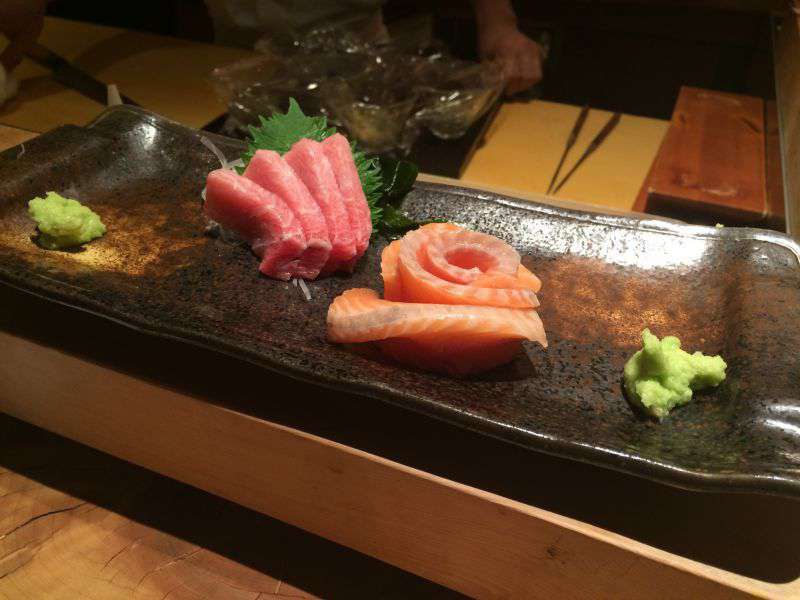 When you arrive at the restuarant you'll be invited to wait until you're escorted to your table. You wait in the soba restaurant, then you'll be taken through and round the corner into the secret sushi restaurant.
The sushi dining room is quite small and initimate, with several tables along the window with views over Tokyo, in the direction of the lovely 5-star Cerulean Tower hotel (where you can have a drink with a fantastic rooftop view of Tokyo from the 40th floor).
The Gonpachi sushi restaurant feels quite upmarket, especially in the evening when it's lit beautifully with subtle ambient lighting, and the plants out on the balcony are also lit up with the Tokyo skyline beyond. In typical Japanese style there's lots of wood used in the interior decoration, so it feels warm, comfortable and very natural.
At the tables you'll get table service with a waiter/waitress, but our favourite place to sit at Gonpachi Sushi is at the bar. If you sit at the sushi bar you'll be able to watch the incredibly talented sushi chefs making the sushi - and if your Japanese is good enough you can chat with them about the fish and order items of sushi or sashimi directly from them.
The menu at Gonpachi Sushi is also in english, and lists each type of fish and a price per piece. This is typically ¥200 - ¥1000 (about £1.50 - £7.50 / $2 - $9), and you can order each piece of fish as either sushi (on rice) or sashimi (just the fish).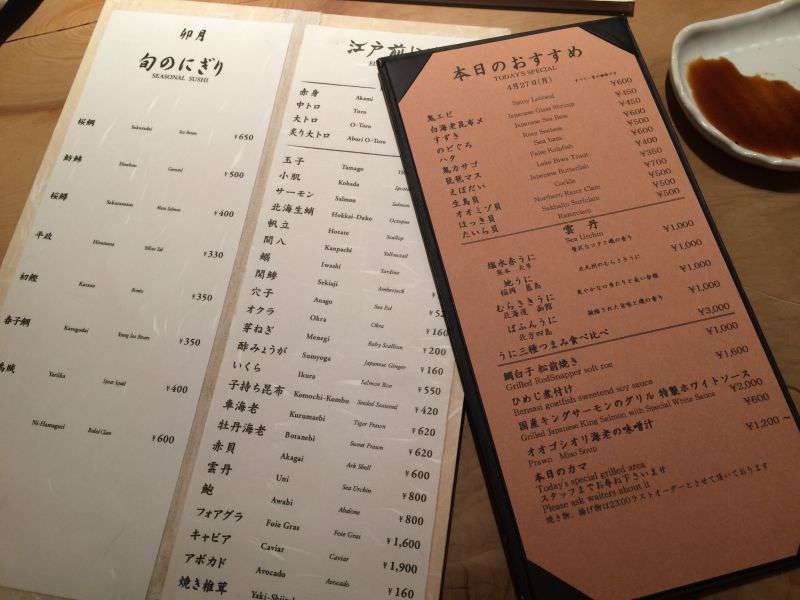 Is Gonpachi Sushi expensive?
Not really! For such a high-quality experience, in both the ambience of the restaurant and the quality of the food, Gonpachi sushi is a really good-value option. It's a perfect mid-price restaurant in Shibuya for an excellent evening out. For a couple eating out you'll probably want 4 pieces of sushi / sashimi each (total about ¥4000) plus a few drinks (let's say ¥4000 again) so you're looking at about £50 or $60 - not too bad for a very nice restaurant in Tokyo.
What kind of sushi do we recommend?
It really depends on your tastes, but our favourite sushi were Salmon (a good choice for those new to sushi), the o-toro Tuna (the fatty belly tuna!) and the oily fish like Mackerel and Sardines. I'm also a big fan of salmon roe (Ikura) but that is an aquired taste and texture!
How to make a reservation at Gonpachi sushi restaurant
Visit the Gonpachi website to see example menus and make a reservation.
How to get to Gonpachi Sushi Restaurant
Here's a Google Map showing the location.