Visit the Hiroshima Peace Memorial or Atomic Bomb Dome
Visit this important historical site in the centre of Hiroshima, a memorial to the people who were killed in the atomic bombing of Hiroshima in 1945
The Hiroshima Peace Memorial or Atomic Bomb Dome (広島平和記念碑 Hiroshima Heiwa Kinenhi) is a historical monument in the centre of Hiroshima - a must see place while in the city.
Formerly the Hiroshima Prefectural Industrial Promotion Hall, this famous site, now a UNESCO World Heritage site, was the only building left standing after the detonation of an atomic bomb over Hiroshima on 6th August 1945.
The site has been left as a ruin, but carefully preserved so that it can serve as a memorial to the people killed in the atomic bombing of Hiroshima, and as a warning to future generations.
The dome now stands within the Hiroshima Peace Memorial Park, an area of central Hiroshima which hosts the Hiroshima Peace Memorial Museum, and where annual ceremonies take place.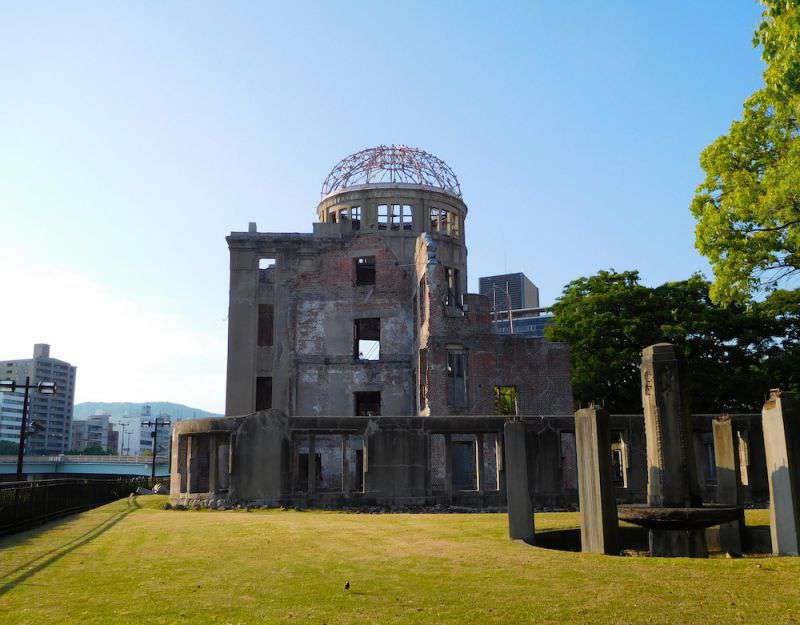 Visiting the Hiroshima Peace Memorial or Atomic Bomb Dome
The Hiroshima Peace Memorial can be visited on foot, and it's possible to walk all the way around the dome and view the building from different angles. There's an information board on the south west corner, which is also the best viewing angle.
How to get to the Atomic Bomb Dome in Hiroshima
The Hiroshima Peace Memorial is in the centre of Hiroshima, at the northern end of the Peace Park and close to the famous T-shaped Aioi Bridge (相生橋) which was used by the American bomb crew as the target point.
The nearest Hiroshima Tram stop is Genbaku Dome-Mae Station, which is on the 2, 3, 6 and number 7 lines.