Try Hiroshima style Okonomiyaki at Okonomi-mura
Okonomiyaki is a Japanese savoury pancake, stacked full of ingredients such as meat, fish and vegetables. At Okonomi-mura in Hiroshima you can try Okonomiyaki from dozens of small restaurants.
While in Hiroshima, a must-see destination is Okonomi-mura. Located in the centre of the city, Okonomi-mura is a whole building of small independent okonomiyaki restaurants. It's a fun place to walk around, and a great experience to dine there.
In downtown Hiroshima, in the Shintenchi district, is the "temple of the original okonomiyaki", Okonomi-mura. This 3-story building is a theme park of okonomiyaki restaurants. This is a perfect place to grab some great value, quick and tasty - and very Japanese - food on an evening out in Hiroshima. Even if you're planning to eat elsewhere, it's worth popping into Okonomi-mura and exploring the various floors just to experience the atmosphere with all the sights and smells.
Okonomoyaki is a Japanese savoury pancake made from pancake batter and with lots of other ingredients - usually shredded cabbage and pork, and often with other optional ingredients like squid, prawns, shellfish, green onion and cheese.
It's cooked on a hotplate - sometimes by a chef, and in some restaurants you can cook your own on a hotplate set into your own table.
In Hiroshima, its customary for the okonomiyaki to be layered up with a thin pancake on top and bottom, with layers of noodles, veg and meat in between.
The pancake is served with okonomoyaki sauce, a tangy brown sauce a bit like HP or other brown sauces in the UK.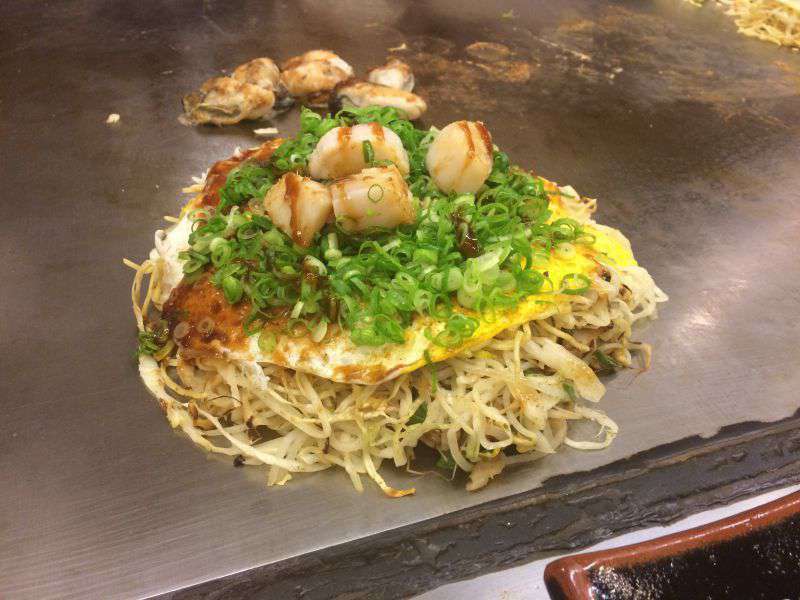 I have to admit - okonomiyaki is not my favourite of all Japanese foods. It's heavy and rich and kind of a bit weird (and I like weird!). But it is an experience watching it being cooked in front of you, and it's a fun dish to share between a few people, especially when you cook it yourself.
The style of okonomiyaki in Hiroshima is also quite different to other areas of Japan. I really like the style from Osaka, where the pancake batter and all the ingredients are mixed together in a jug, and poured out onto the hotplate.
It's definitely something to try, you'll have fun sharing an okonomiyaki and a few beers. You just might not want to have another one for a while...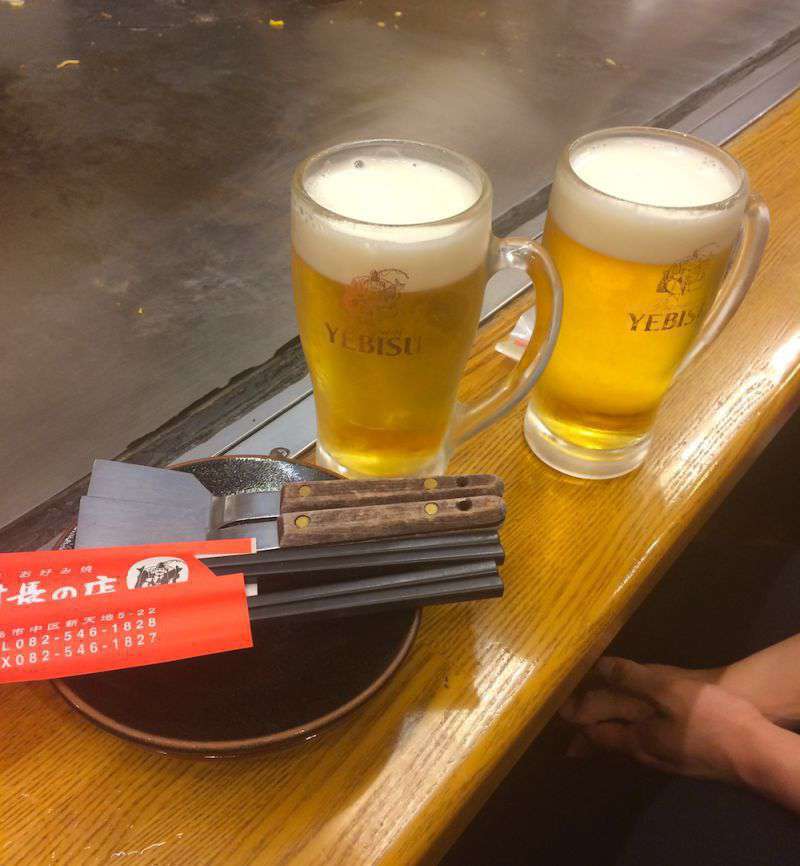 How to get to Okonomi-mura in Hiroshima
Okonomi-mura is right in the centre of Hiroshima, in the Shintenchi district and close to the main shopping areas and big department stores like PARCO. Here's a quick link to a Google map.
The closest dentetsu (tram) stop is Hatchobori or Tatemachi which are on the main line west-east through central Hiroshima on lines 1, 2 and 6. However Hiroshima isn't such a big city and Okonomi-mura is a 15 minute walk from the peace park or atomic bomb dome, and the same distance from Hiroshima station.
An english version of the Okonomi-mura website is available for more information.