Experience a Japanese ryokan in style at the Ginsyo hotel in Ibusuki
This seaside resort hotel is in the traditional ryokan style, and features stunning sea views, onsen and great food
Hotel Ginsyo is a fantastic ryokan style hotel in Ibusuki, the seaside capital of Kyushu located about an hour south of Kagoshima.
We stayed here during our visit to Ibusuki, a town which we'd recommend to anyone travelling to Kyushu. After deciding on visiting Ibusuki, we found the hotel Ginsyo on Booking.com and during late May the hotel was quiet and relatively cheap.
It's a big seaside hotel - not a quaint ryokan - however the hotel is beautifully appointed in traditional style, with lots of wood, bamboo and internal planting and water features.
Included in the price was 'afternoon tea', so before checking in we were treated to cups of Japanese tea and some little snacks in the lounge overlooking the sea.
The rooms are typical ryokan style with tatami mats, screen doors and futon beds. When you first walk in to a ryokan your first reaction will be "er... where do we sleep?" - but in the evening staff come in (usually while you're out having dinner) and make up the room for bedtime, by rearranging the furniture and laying out the futons and pillows on the floor.
Ryokan style hotel rooms also tend to have a sort of indoor balcony space with chairs and windows overlooking the view - and in the case of hotel Ginsyo, the views views over Kagoshima Bay are quite stunning.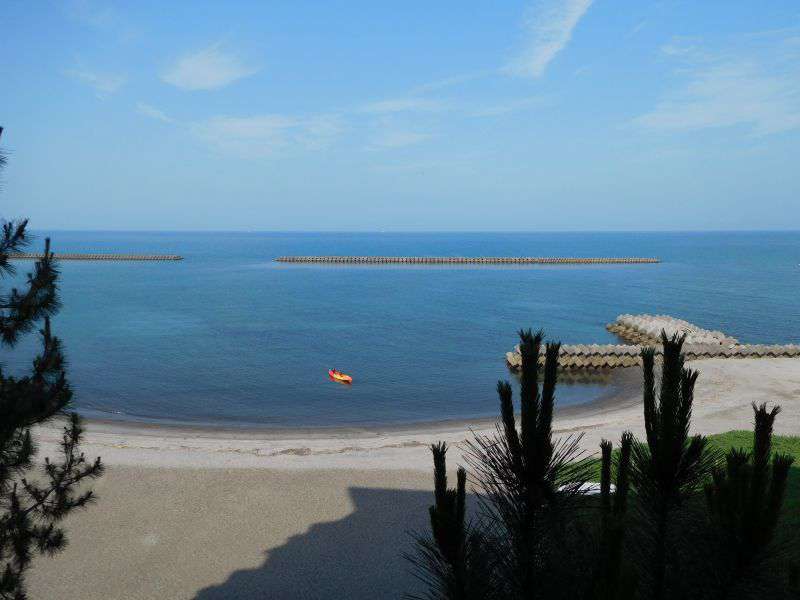 The rates are generally inclusive of breakfast - and we'd recommend taking this option as the breakfast was incredible. Japanese breakfasts are a thing of wonder, but I have honestly never seen such a generous spread in all my travels. We feasted on soup, salad, grilled fish, tomato & carrot juice, tofu, pickles, rice, fruit - and a huge donburi style egg hot dish which you cooked yourself over a candle flame. This was all eaten in a private room with our own water feature table. Amazing!

So if you're planning to visit Ibusuki, check out our other blog post about Ibusuki and consider staying at hotel Ginsyo.