Visit Kamikochi and go hiking in the Japanese mountains
In the mountains of Japan's Honshū island you can go hiking or mountain climbing and stay in hotels, lodges, mountain huts or campsites.
In central Honshū is a spectacular mountain region known as the Japanese 'alps'
The Hida mountains, in central northern Honshū are some of Japan's most dramatic scenery. In spring time, the weather can be warm and dry, while snow still clings to the peaks giving this area a stunning alpine feel.
Kamikochi is the epicentre of visiting this region, and is easily accessible from Tokyo or Nagoya via rail and bus. Kamikochi is a small mountain village - but not in the traditional sense. It's modern and built for tourists, but don't let that put you off as it's very small and you'll only ever be looking at the scenery.
There are opportunities here to stay in luxury hotels with ryokan guest rooms and onsen, all the way down to campsites amongst the monkeys. You can hike for miles along flat easy paths - or take more intrepid expeditions up to the mountain huts and exhilerating ridge walks.
Itinerary
From Tokyo, you can take the train to Matsumoto, where you can buy a combined train and bus ticket. You take the train from Matsumoto station to to the Shin-Shimashima bus terminal (about 40 minutes), and then onto a bus to Kamikochi (about 60 minutes).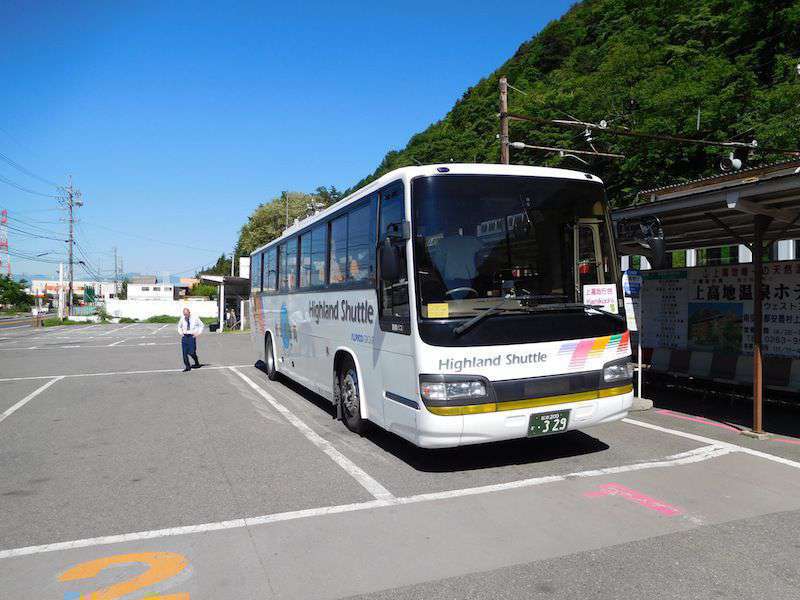 In Kamikochi there are half-a-dozen hotels which tend to offer half-board accomodation, there are also lodges scattered throughout the valleys where you can stay in more rustic surroundings. The kamikochi.org website is a good place to find somewhere to stay - just be sure to check wether your hotel or lodge is in Kamikochi itself, or wether you'll have to hike to get to it! There is no road travel beyond Kamikochi higher up into the valley.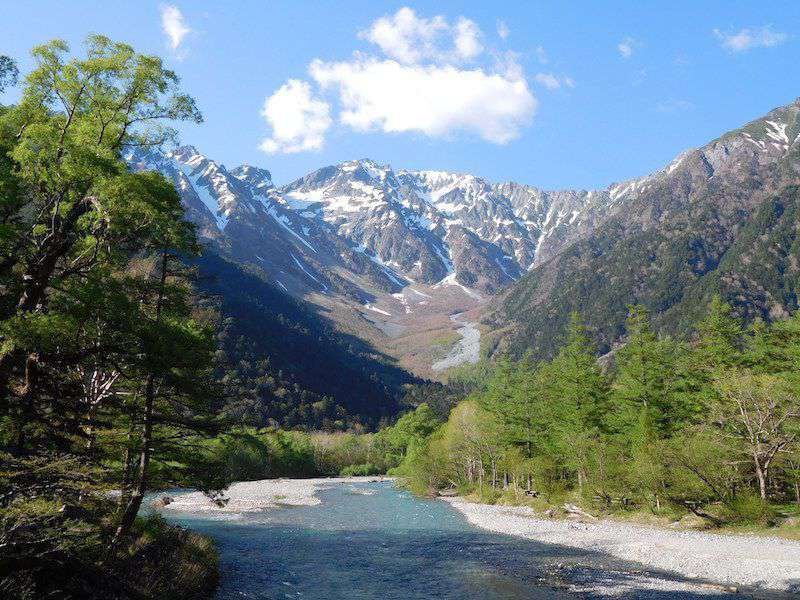 Wherever you stay you'll be able to go hiking straight out of the door. You have the choice of miles of level walks along the river valley, or something steeper up into the mountains.
Easy walks
Myojin Pond
From Kamikochi to the Myojin Pond, along one side of the river and then back down the other. About an hour each way, plus time at the Pond (costs some ¥ to enter), probably 3 hours total
Tokusawa lodge
From Kamikochi to Tokusawa lodge for ice cream and monkeys. About 2 hours each way, plus time at Tokusawa, probably 5 hours total.
Taisho Pond
From Kamikochi to Taisho Pond area, about 45 minutes each way.
There are trail map boards all over the place which make navigation easy.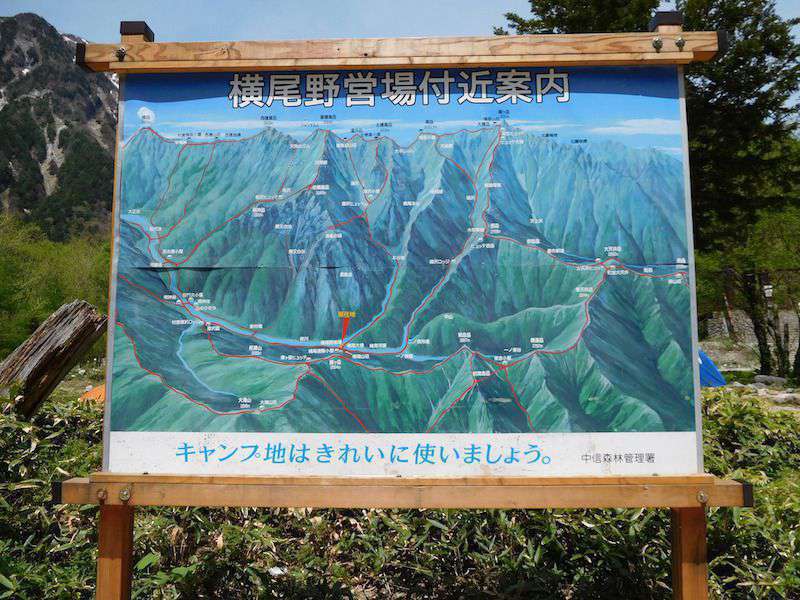 Strenuous / expedition hikes
Karasawa cirque
Follow the river past Tokusawa to Yokoo, then up the Karasawa valley to the Karasawa Goya mountain hut at 2200m altitude. You can stay the night here with a fabulous breakfast and evening meal included - the accomodation is basic though, usually shared male/female dormitories unless it's very quiet (we went in late may and were lucky enough to get a room to ourselves). It's just futons on the floor, and no washing facilities beyond the sinks in the toilets. Plenty of beer from the vending machines though! From here you could ascend to the top of one of the peaks, Karasawa-dake or even Hotaka-dake at around 3000m - but only if you are comfortable with and prepared for hiking and scrambling on exposed rocky terrain. You'll feel the altitude too! You could stay in the hut again before returning to Kamikochi. This is a 3 day trek, staying 2 nights in huts.
Yarigatake and the Daikirretto
For a longer expedition, you could hike from Yokoo to the Yarigatake Sanso mountain hut, where you can stay the night. Then you could ascend Mt Yarigatake, followed by crossing the Daikirretto ridge - a long and exposed mountain ridge involving use of metal ladders and chains. The Daikirretto ridge ends further south by Karasawa-dake, where you could stay in one of the huts there, before returning to Kamikochi. This is a 3 day trek, staying 2 nights in huts, with long days - especially on the Daikirretto.
In winter these routes should not be attempted. Even in autumn and spring there may be snow and ice, making either of these options a serious undertaking. In snowy conditions these routes should only be attempted by people with the experience and equipment to remain safe in the mountains. The mountain huts may be open only from May-September.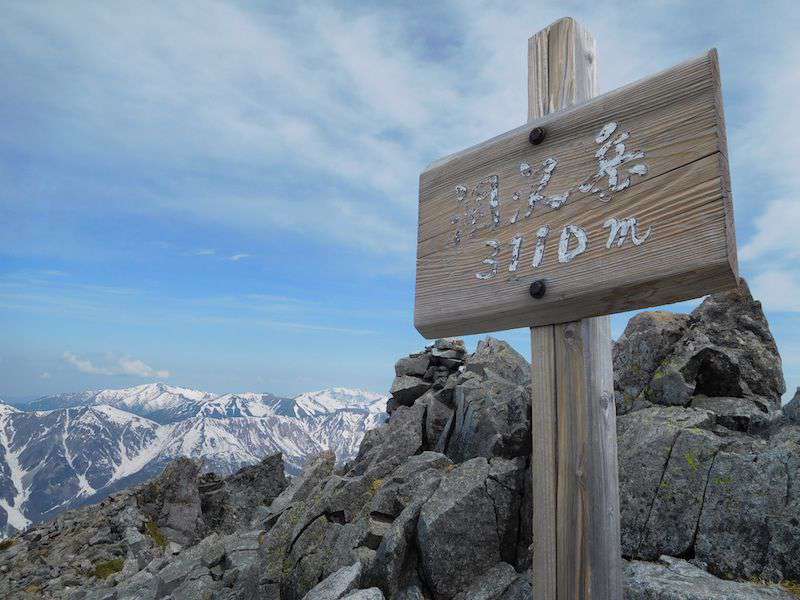 Tips
You can buy a great map of the area - Mapple Map 37 at 1:50000 - however we were only able to find this on amazon.co.jp and in outdoor shops in Tokyo.